Double Stripe Swim n' Sport 3/4 Sleeve Active Wear Shirt - Chlorine Proof
Great sun and body coverage in this sporty rash guard! This chlorine proof, sporty, fun 3/4 sleeve rash guard shirt is a great choice for the pool, the gym,and any land or sea sports you can think of. Look and feel great while protecting your skin from the sun. Whether you're swimming, splashing around at a water park, or playing sports, this swim shirt is a great swimsuit solution. It's the perfect versatile cruise wear to be active both in and out of the water.
Mix and match with many of our swim skirts, skorts, shorts, and fitness pants
100% Chlorine Proof - much longer life span for pool swimming than other swimwear that is not chlorine proof
Fabric: Polyester
Comes with FREE swim/sports bra. Unattached bra allows you to tailor the size to your fit and also creates a better hold.
Available in Missy S-XL and Plus Classic 1X-4X
Quick drying
Breathable fabric
UPF 50+ sun protection
Item Length in size Medium is 24", Length in size 2X is 26"
Model is 5'9" tall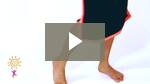 Choose a close fit at the waist as swim fabric stretches in the water and returns to its original shape when dry.
stars - based on reviews